We actually had a pretty good attitude going into tonight's game considering the recent slide and the mounting list of injuries. The bottom two lines were almost entirely from Wilkes-Barre/Scranton except for Eric Godard. Turns out, that didn't matter. With 3:44 left in the first period Biz Nasty drops the gloves with Nathan McIver. Biz Nasty dominates that fight and takes McIver down. Biz skates to the box yelling "WOOOOOOO LET'S F&*%$@# GO!" Good fight and great emotion. We think he should play more. Between his willingness to drop the gloves and his emotion, we like him.
Not long after that with 20 seconds left in the first period, Matt Cooke scores a nice goal. Pens up 1-0. We just have to say that we love Matt Cooke. We thought he's been doing a lot of nice things for a while, and now that he's been on the top line, he's doing even more nice things. He fights for pucks along the boards, isn't afraid to go to the front of the net, sticks up for teammates, and now scores goals with ease. Only 28 seconds into the second period and Cooke strikes again. He put in a rebound that was initially shot by Whitney into an open net. Pens up 2-0. At this point we were really hoping for a hat trick and it wasn't too much longer before he got a good chance that unfortunately didn't go in. The Ducks had an empty net late in the third, and he just wasn't ready for a pass to him to put it in the empty cage. Either way, he's playing really hard and we like his attitude.
The Ducks would score a goal in the second period to make it 2-1.
With 4:55 left in the third period Hal Gill takes a shot from the right point that the goalie can't find and he scores. Pens up 3-1. Sure was nice to have that two goal lead late in the game.
The Pens stepped up when they needed to and this was a great win. Missing so many players looked maybe too tough to handle, but the Pens handled it well. Marc-Andre Fleury looked good and the defense wasn't near as horrendous as we thought it would be. Brooks Orpik also went down in the second period with what we hope isn't a serious injury. With Letang and Scuderi already out, losing Orpik wasn't good. Not that losing Orpik is ever good. Also missing were Sidney Crosby, Pascal Dupuis, and Max Talbot. Janne Pesonen and Bill Thomas were called up from Wilkes-Barre/Scranton to help fill those spots.
The
Penguins are encouraging fans to bring their Terrible Towels to the game
on Sunday. It will be nationally televised on NBC. Sidney Crosby came out with a Terrible Towel back when the Steelers made their Super Bowl run a couple years ago (looked for the video quickly and couldn't find it) and we think this is a nice gesture. Hopefully the place is filled with them. Dana Heinze is also a well known Steelers fan so we expect to see the Terrible Towel behind the bench on Sunday.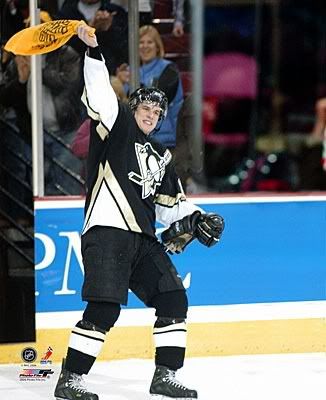 The Pens next game is Sunday against the Rangers at 12:30 p.m. at Mellon Arena.
We'll try to get that Steelers post up later today. Maybe while watching the Pitt basketball game. If you haven't watched Pitt yet this year, we recommend checking them out. After all, they are the number 1 team in the nation. DeJuan Blair is a big man with a big game and fun to watch. They play at 6 p.m. on ESPN.